WHAT ARE THE CAUSES?
Researchers do not know what causes autoimmune disease, but several theories point to an overactive immune system attacking the body after an infection or injury. According to a 2014 study, women get autoimmune diseases at a rate of about 2 to 1 compared to men 6.4 percent of women vs. 2.7 percent of men. Often the disease starts during a woman's childbearing years (ages 15 to 44).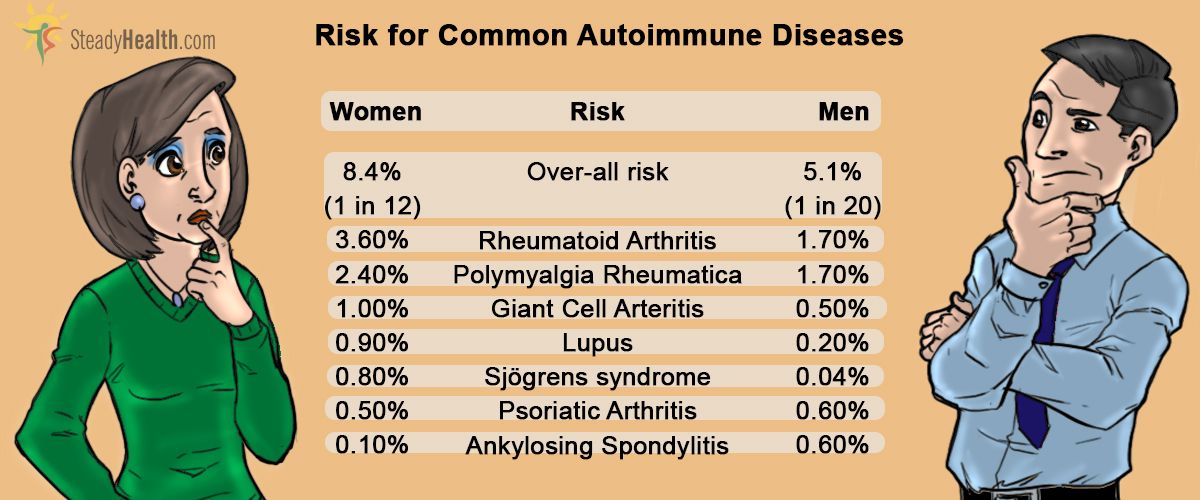 RISK FOR AUTOIMMUNE DISEASE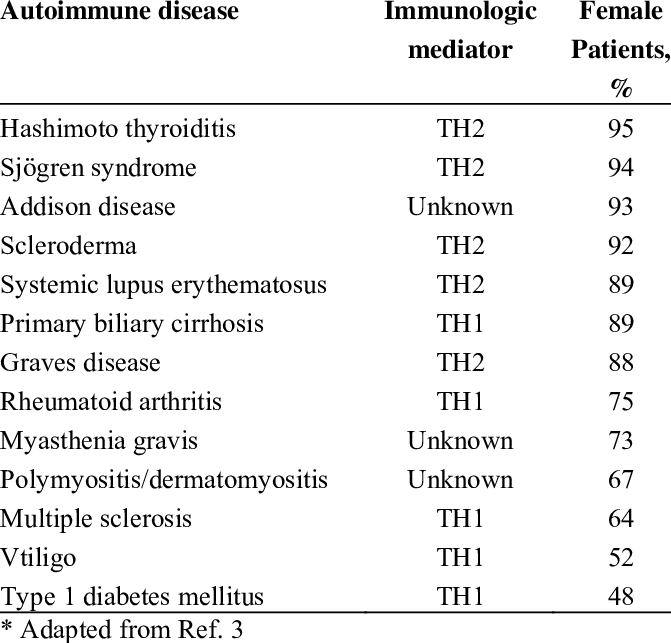 STATISTIC OF FEMALE PATIENT
We do know that certain risk factors increase the chances of developing autoimmune disorders, including:

ETHNIC GROUPS
For example,lupus affects more African-American and Hispanic people than Caucasians.
GENETICS
Certain disorders such as lupus and multiple sclerosis (MS) tend to run in families. Having a relative with autoimmune disease increases your risk, but it doesn't mean you will develop a disease for certain.
WEIGHT
Being overweight or obese raises your risk of developing rheumatoid arthritis or psoriatic arthritis. This could be because more weight puts greater stress on the joints or because fat tissue makes substances that encourage inflammation.
SMOKING
Research has linked smoking to a number of autoimmune diseases, including lupus, rheumatoid arthritis, hyperthyroidism and MS.
CERTAIN MEDICATIONS
Certain blood pressure medications or antibiotics can trigger drug-induced lupus, which is often a more benign form of lupus. Myositis center also discovered that specific medications used to lower cholesterol, called statins, can trigger statin-induced myopathy. Myopathy is a rare autoimmune disease that causes muscle weakness. Before starting or stopping any medications, however, make sure to talk to your doctor.
"WESTERN DIET"
Another suspected risk factor for developing an autoimmune disease. Eating high-fat, high-sugar, and highly processed foods is thought to be linked to inflammation, which might set off an immune response. However, this hasn/t been proven.
HYGIENE HYPOTHESIS
Because of vaccines and antiseptics, children today aren't exposed to as many germs as they were in the past. The lack of exposure could make their immune system prone to overreact to harmless substances.